Christmas is coming... And if you haven't already, you'll soon be making arrangements with family about who's going to be cooking the dinner this year.
Christmas dinner is the most enjoyable meal of the year. Everyone enjoying (hopefully) good food, some drinks and generally having a great time. But why does it always have to be the same?
Of course, a roast turkey is the traditional meal in the UK – but that's not to say it's the law. If you're bored of turkey or you prefer other meats, why not try something a little different?
Here, we've rounded up some ideas for alternative Christmas dinners.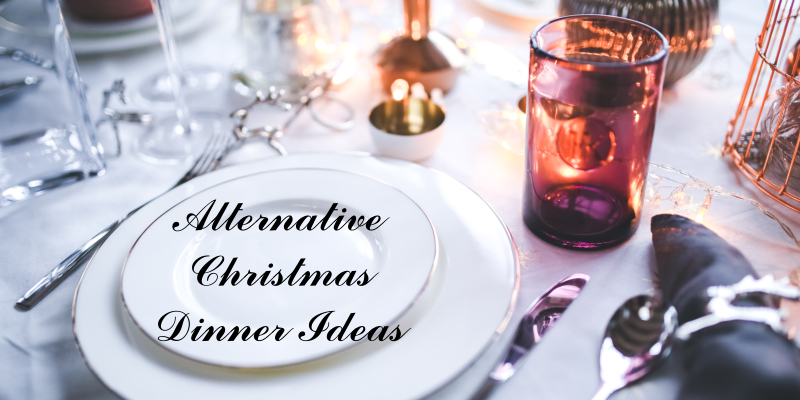 To make it a little easier to navigate, we've broken it down into sections:
Starters

Alternative meats

Fish main courses

Vegetarian options

Non-traditional Christmas desserts
Ready to revamp your Christmas dinner? Here we go...
Alternative Christmas meal starters
Play it safe with a prawn cocktail? If you love prawns, then sure; go for it! But if you fancy a little change, how about one of these variants on tradition:
Give your cocktail a lift by adding smoked salmon or crayfish tails. For a different twist, try using a horseradish cream or a zesty vinaigrette rather than your standard marie rose sauce.




For a super simple starter, serve soup. The best thing about this is that you can make it days or even weeks in advance – just freeze and defrost the night before, then warm up to serve. Soup is really easy to make and you can pretty much use any ingredients you like. A hearty tomato soup is a great starter, or you could use seasonal vegetables, or perhaps go for a potato and leek option.




If you're feeling a bit more adventurous, you could try serving something completely different, like baked Camembert cheese or goat's cheese tarts.
The main thing to remember about your starter is to not over-face people – make sure they leave enough room for the main event!
Alternative meats for Christmas dinner
So perhaps you don't like turkey. Maybe you can't bear the thought of leftover turkey sandwiches for the next two weeks. Or it could be that you just fancy a change.
There's nothing wrong with breaking from tradition... So here are some alternative centrepieces you could consider for Christmas day.
Goose
You might be surprised to learn that goose, rather than turkey, is actually the real traditional Christmas roast. Turkey replaced goose as the most common festive centrepiece in the 20th century, but many top chefs are now leading the return of goose to our Christmas tables.
It provides a much richer and more succulent roast to Turkey, and you can serve alongside all the usual Christmas dinner trimmings – so it's a perfect option if you don't want to break too far from tradition.
Duck
Another bird that's increasing in popularity for Christmas is duck. With its rich and distinctive flavour, you can create a memorable meal with a difference. Cook the full bird with oranges, or perhaps serve pan fried duck breasts with a red wine sauce.
Try dauphinoise potatoes as a gorgeous side, accompanied with carrots and green beans.
Ham
Ham is a meat that's become almost as synonymous with Christmas as Turkey itself. Many people cook a Christmas ham that's served cold on buffets over the festive period.
But why not go the whole hog and serve a Christmas ham for dinner? Glaze with honey or maple syrup to add a tasty twist. Again, you can serve with all the trimmings, or simplify the meal and just serve with roast potatoes, veg and a nice gravy.
Beef
Beef is such a versatile meat that it can form the base of many different alternative Christmas meal ideas. You could roast a joint and serve with traditional sides, or go for something totally different... You could try a hearty homemade steak pie, or perhaps a crowd-pleasing beef Wellington using succulent fillet – let your guests see your masterpiece and serve at the table for added drama.
Another great option is to coat beef rib in a mustard crust and roast in the oven. If you're lucky, you might have some leftovers for Boxing Day too!
Lamb
Another great meat that you could use as a variation on tradition is lamb. If you're feeding a lot of people but fancy a change, roast a leg of lamb as an alternative to your regular Sunday dinner joint. Serve with potatoes, veg and a mint gravy for a wholesome dinner that everyone will enjoy.
Top tip: If you're doing lamb or beef, you could try putting it in the slow cooker the night before to remove the stress of cooking on the day. Or if you're having a lot of people over, do a joint alongside the traditional turkey so that people have a choice.
Toad in the hole
Hands up – whose favourite part of Christmas dinner is the pigs in blankets? Us too.
These delightfully dreamy parcels of sausage wrapped in bacon are a fixture of Christmas, so why not make them the focal point? Transform your usual toad in the hole by adding pigs in blankets to your Yorkshire pudding mix. Serve with mashed potato, veg and rich gravy. Delicious!
Fish dishes
If you don't eat meat but enjoy fish – or you're cooking for a pescetarian – there are a few different options that can work as a fantastic alternative to the rich Christmas dinner that meat eaters tuck into.
You can of course use just about any fish or seafood you want, but here are some possible ideas:
Salmon can be cooked alone or with a light marinade in foil – and the beauty is that it takes only minutes. You can then serve with a hollandaise sauce for a light Christmas dinner. Much less stressful than waiting hours for your roast turkey to be ready. You could always go a little more adventurous for Christmas by making a salmon en croute, or if there's only one fish eater, wrap in a filo pastry parcel for a perfect personal dish.




To upgrade your salmon into something fit for a Christmas banquet, try this dish which sees the fillets stuffed with cod. Tasty and pleasing on the eye.


Go all out with lobster. Seafood doesn't come much more grandiose than lobster, so why not treat yourself and your guests to a memorable meal featuring this delicacy?
Vegetarian Christmas dishes
For those who eat neither meat or fish, there's no need to feel left out at Christmas dinner. There are still plenty of tasty options to produce that will ensure your vegetarian guests don't go hungry this Christmas.
Nuts are a popular snack around the festive period, but they can take centre stage for a veggie-friendly meal. This cashew nut roast with spinach is the perfect centrepiece for a vegetarian Christmas dinner.


Another option is this mushroom recipe, stuffed with crumbly blue cheese and baked with spinach. A rich flavour that's perfect for the Christmas period.


If you're only catering for one or two vegetarians, an individual pie is a fantastic way to offer them something thoughtful and tasty. This recipe features some tasty ingredients including potatoes, chestnuts, mushrooms and cranberries.
Desserts
Traditional Christmas dinners aren't complete without a Christmas pudding. But for many people, it's not a treat that hits the spot. Full of dried fruit, and often a rich taste of alcohol, it's not for everyone.
Here are some potential ideas for alternative Christmas dinner desserts:
High on our list to try is this scrummy-sounding gingerbread soufflé. Featuring spices such as ginger and cinnamon, and served with an eggnog custard, there's surely no other dessert that tastes as much like Christmas as this one does.


For those who really can't stand Christmas pudding, Nigella's chocolate pudding is a fantastic alternative. It's the same shape, but a completely different taste – one for the chocoholics!


If there are a few people who aren't keen on Christmas pudding, try knocking up a classic trifle to offer. Prepare in advance, and serve it in the middle of the table – everyone can dig in and help themselves!
Remember your essentials
No matter what you choose to have for Christmas dinner, the most important thing is to make sure you have all the accessories you need.
Probably high on your list will be:
Top tip: Use disposable kitchenware for cooking your dinner. That way, you'll have fewer pots to wash up as you can just bin the containers afterwards.
What will you be cooking and serving for Christmas dinner this year? Let us know by leaving a comment, we'd love to hear your alternative Christmas dinner ideas!