Whether you like it or not (and we love it!) Christmas is fast approaching.
With that in mind, it will soon be time for you to turn your attentions towards Christmas decorations and making your home a festive wonderland. To help you out, we've put together some possible ideas that you might like to try to bring some festive cheer to your home...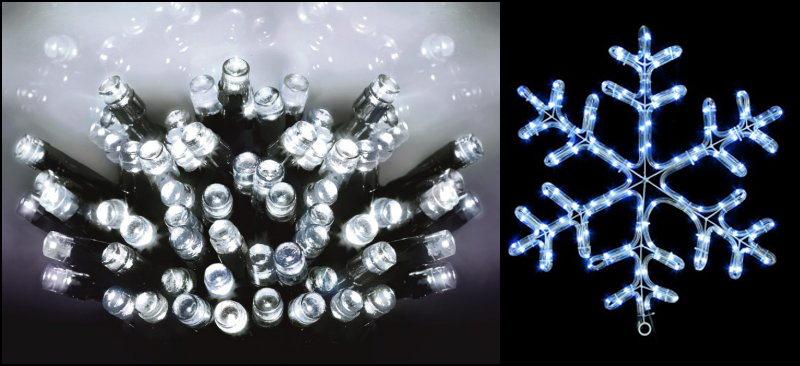 Light up your Christmas: Premier Decorations 120 Supabright White LED Lights (left), and Premier Decorations Twinkling White LED Snowflake Light.
Indoor Christmas Lights
What could be better than spending a cosy night in at Christmas time, with a roaring fire and festive lights twinkling away?
For some season sparkle, add some indoor Christmas lights to the mix. Christmas net lights are ideal for adding a classy look to your tree, or for bringing a feature window display to life.
You could also run some lights across mantels or shelves for an extra dimension to your Christmas lighting.
Outdoor Christmas Lights
For the more extrovert amongst you, Christmas is the perfect time to showcase your personality with some outdoor Christmas lights. If you really want to make your home stand out from the crowd, flashing lights can be a great way to be noticed.
Other people might like a more reserved outdoor display, which is when some LED string lights can be used to create a magical winter icicle or Christmas snow effect outside your home.
If you have any trees or even a permanent gazebo or arbour in the garden, you could also wrap some outdoor lights around them to continue the festive theme outside.
Christmas Ornaments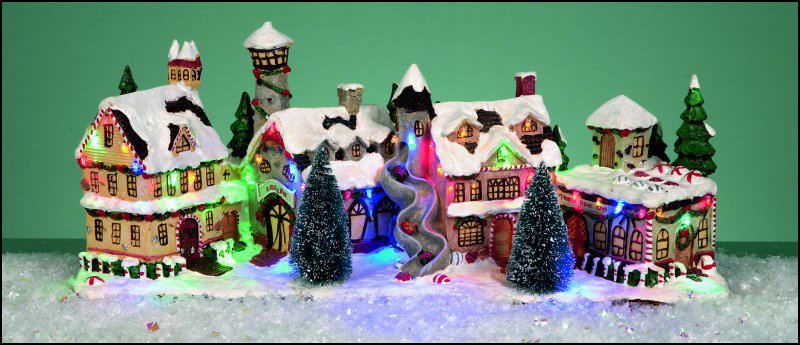 Christmas ornaments: Bring some Christmas cheer to your home with this Premier Decorations Santas Village with Present Slide and LED Light.
A Christmas tree is an essential, but there are plenty of other trinkets and Christmas ornaments that you can incorporate into your home.
From novelty lighted decorations to more traditional festive scenes made of ceramic or carved from wood, there are plenty of options to add a sprinkle of Christmas to any room of your home. Where space restricts the hanging of lights or the presence of a Christmas tree, why not bring a touch of the season with some sparkling window decorations or a small LED Cherry Blossom Tree to display on your window sill or mantel?
To complete the homely Christmas feel, you could turn down the lights and enjoy the warmth of low level lighting provided by flickering Christmas candles.
How Will You Decorate?
What's your style when it comes to Christmas decorations? Do you prefer the minimalist approach of just a few lights and a tree, or are you more likely to fill every inch of your home with festive ornaments?
When it comes to decorating your home this Christmas, remember to always follow safety precautions, particularly when using electrically powered lights. And be careful of loose hanging decorations near to open fireplaces or sources of heat.
We'd love to see your decorations! Leave a comment below or share an image of your display with us on Twitter – remember to tag @Barnitts!