There so are many different kitchen styles and designs, that it can be hard to choose which one to go for. Usually, it will depend on your personal preferences and how you choose to finish the kitchen off with utensils, accessories and appliances.
Whether you're looking to renovate your kitchen space, or you want to add some character to your existing design, this guide will help you accessorise to suit your tastes.
Here's a selection of our favourite kitchen styles for inspiration...
Vintage/retro kitchens
A vintage style kitchen is one that has a homely feel, created by a retro vibe. Pastel colours are usually found in a vintage kitchen, with retro style accessories to complete the look. Think cream appliances with retro dials and knobs, with trinkets and ornaments on display to show off character of the home and the owner.
Patterns such as stripes and polka dots are also great for creating the cosy and warm vintage feel in your kitchen. The 'Keep Calm and Carry On' motivational poster, which originated around the time of the Second World War, has made a comeback in vintage homes in recent years, and is another quirky way to channel the retro style.
Country farmhouse/rustic/cottage kitchens
The kitchen usually forms the centre of any country or farm house. If your family spend lots of quality time together in a large kitchen, a country or rustic style is a great way to create that sense of homeliness. Large wooden tables are a mainstay of a country style kitchen, while bright colours and floral designs are key. Patterns are also crucial to nailing the country look, with checks, plaid patterns and gingham all fitting the bill.
Rustic cottage style kitchens are usually filled with traditional scents of hearty British meals like stews, pies, and the classic Sunday roast. There might also be a spot of family baking going on as well!
Mediterranean/European style kitchens
To bring some European flair to your home, a Mediterranean style kitchen is perfect. This European style is warm and inviting, usually featuring dark wood cabinets and sweeping curves. Colourful tiles and mosaics are also a great way to capture the spirit of a Spanish or Italian kitchen.
Wrought iron hanging pan racks are also a great way to achieve the open feel of a Mediterranean kitchen. Large serving dishes and pans are essential, with Mediterranean kitchens often providing large meals in a single pot to feed an entire family. Serve Spanish paella or Italian lasagne in signature dishes and let everyone tuck in together.
Another key Mediterranean feature is earthy colours, with terracotta accessories the perfect way to incorporate these into the kitchen. Displays of wine glasses and traditional style Italian latte glasses are also common themes.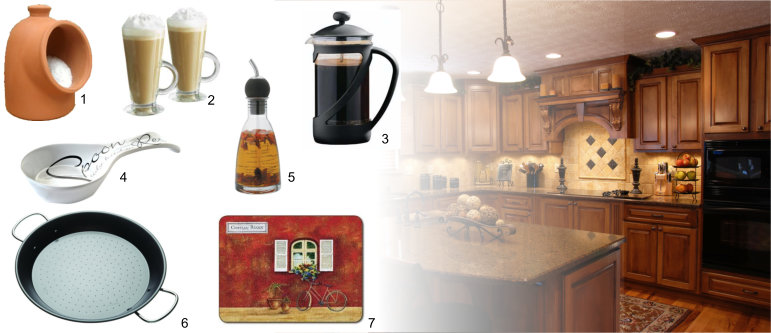 Colourful kitchens
To show off your fun and playful side, a colourful kitchen style is perfect. With bold and interesting colours bringing a contemporary look to your kitchen, there are no rules – simply go with whatever colours you love.
To keep things more subtle, choose a neutral colour for the walls and wooden cabinets, and then bring flashes of bold colour through your accessories. This adds interest and shows off the fun and funky side of your character.
Oriental kitchens
An oriental style kitchen is one that is calm and peaceful. Sleek work surfaces and cabinets finished with stainless steel fittings help to create this sense of tranquility and freshness. Inspired by Asian design, Oriental kitchens will be bright and airy, with accents of calming colours such as greens and blues. The elegance of Chinese and Japanese designs lends itself perfectly to a kitchen with an Oriental theme.
In terms of accessorising, a wok is an essential item for any oriental themed kitchen, allowing you to rustle up beautiful stir fries and curries with ease. Stylish kitchen knives are another mainstay of an Oriental kitchen, with specialist options available for cutting meat and fish. Bamboo accessories are a great way to bring that feeling of The Orient even more prominently into the kitchen.
Which kitchen style suits you?
Which style is your kitchen? What style would you go for if you were to change it?
By following the tips above, you can incorporate utensils and accessories into your design to create an inspiring and stylish kitchen.
Let us know what your favourite kitchen styles are by leaving a comment below!