The Christmas countdown is now well and truly on, and for many people it's a race against time to get the Christmas shopping done. With many people's homes now decked in Christmas lights and decorations, the focus has turned to the final festive shopping push.
If you're struggling for ideas, we've put together this Christmas gift guide to help ease your troubles. Here, you'll find ideas for friends and family of all tastes, so you can give something extra special this year.

Christmas gift ideas for cooking enthusiasts: (Left to right) Mason Cash 28cm Decorated Tagine Casserole - Striped, Judge Non-Stick Muffin Tin 6 Cup, Master Class Non-Stick 46cm x 26cm Cooling Tray, and Morphy Richards Die-Cast Stand Mixer - Red.
If you know someone who loves spending time in the kitchen, why not treat them to some new cooking or baking equipment? From pots and pans to baking trays and rolling pins, a budding chef will adore some new gadgets to try out fresh recipes.
For someone extra special, how about a gorgeous stand mixer? You never know, they might repay your kindness with cakes and other baked goodies!
The Gardener
For green-fingered grandmas or outdoor aunts, gardening gear is a great gift choice. From garden features such as arches, arbours and trellis planters to flowers and seeds, you'll make their Christmas with a garden themed gift.
The Pet
Don't forget your furry and feathered friends this festive season! As we all know, pets hate being left out of the action, so why not also make them part of the Christmas day experience? Pet gifts are a lovely touch to include your beloved companions in the celebrations, with plenty of toys and tasty treats to keep them occupied.
The Music Lover
Whether they like thumping beats or the more refined strains of classical music, any music lover will enjoy listening to their favourite tunes. Why not give them something to play their music collection on at home and away, with a portable bluetooth speaker?
The Snoozer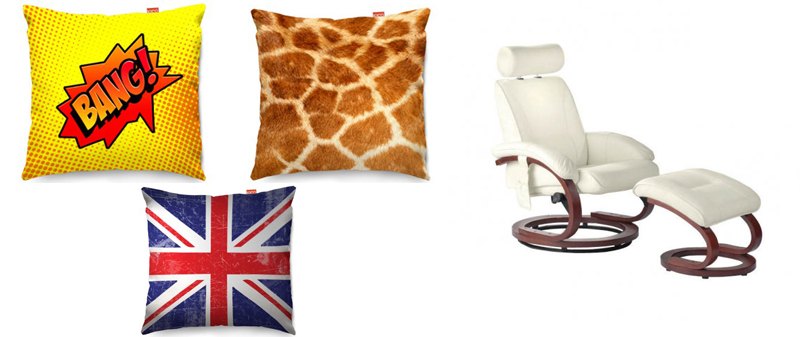 Christmas gift ideas for people who love to relax: (Left to right): Kico Animal Skin 45x45cm Funky Sofa Cushion - Giraffe, Kico Comic Pop Art 45x45cm Funky Sofa Cushion - Bang, Kico Kids 45x45cm Funky Sofa Cushion - Union Jack, and Premier Bliss Cream Leather Effect Massage Chair and Footstool.
Live with a lazy bones or know a person who loves to lay back and wind down? Perhaps you could give them something super comfortable to improve their downtime that little bit more. A funky printed cushion would be the perfect start.
Or if you know someone who works extra hard and deserves a well earned rest at the end of the day, you could try an ultra comfy recliner chair.
The DIY Enthusiast
You either love it or you hate it, but for people who enjoy a touch of DIY, tools and DIY equipment can make a great gift. Some people simply love to make adjustments to their own home or craft artistic creations in their spare time, so give them something that will help them in their DIY efforts.
The Playful One
Whether you've got younger relatives or you live with a big kid, toys are always a great entertainer on Christmas day. Whether they love playing boardgames with the family or creating things alone, you can't go wrong with toys and games to keep people happy at Christmas.
The Barista

Christmas gift ideas for coffee lovers: (Left to right) Le'Xpress Coffee Maker Jug Set, Bodum Brazil French Press Coffee Maker 3 Cup - Red, Ascaso Dream Versatile Coffee Machine in Dark Black, Bugatti Diva Electronic Espresso Coffee Machine in Green.
For coffee crazy friends and relatives, giving them their own coffee making facilities is a great idea. From espresso to cappuccino and latte to mocha, modern coffee machines do it all. If you're buying for a budding barista, a coffee machine is a wonderful idea.
The Animal Lover
Animal lovers and pet owners usually love to show everyone just how much they care for other living creatures. Why not give them a lasting ornament of their favourite animal? Whether it's a cat, dog, owl or even a meerkat, you can be sure that your special person will be kept company all year round.
What Will You Buy?
We hope that our Christmas gift guide has covered some of the most important people in your life. Has it given you some fresh inspiration? We'd love to hear what you're going to give to friends and family this festive season.